What is Water Stewardship?
Water stewardship is a set of practices – to be used by businesses, utilities, communities, and others – that promotes and fosters the sustainable and equitable management of freshwater resources. Water stewardship practices range from water use efficiency at an organization's own operations, to engagement with suppliers, to long-term multi-stakeholder river basin projects, and beyond.
Water stewardship helps ensure that water users not only manage their own risks and seize opportunities related to water (e.g., ensuring businesses have the water they need to continue production processes), but also promote long-term water security for all.
Water is perhaps humanity's most vital natural resource. By the same token, water crises pose some of the most vital sustainable development challenges of our time.
According to the World Economic Forum, water crises have been among the top five global risks in terms of impact in each of the last four years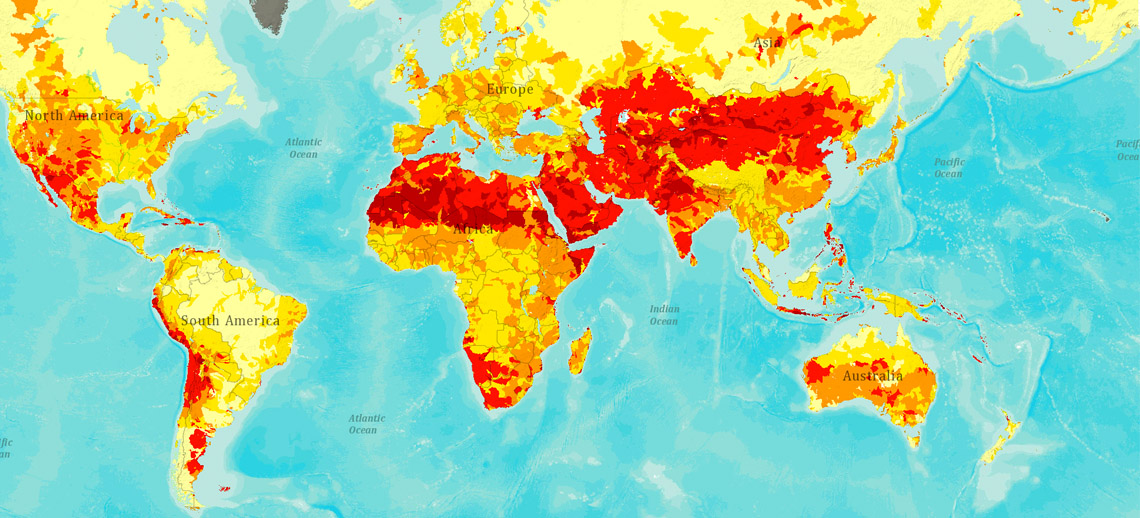 Credit: World Resources Institute Aqueduct.
Water stewardship is the use and treatment of water in ways that are socially equitable, environmentally sustainable, and economically beneficial. It can be adopted by businesses, through corporate water stewardship, as well as by growers, communities, and others. Ultimately, stewardship is a key practice to address these critical water challenges, drive sustainable water management, and achieve the Sustainable Development Goals.
What are the core actions of effective corporate water stewards?
Business seeking to manage their risks through water stewardship typically implement a short list of core actions, especially:
Provide water, sanitation, and hygiene for all employees
Drive water use efficiency and reduce pollution throughout operations
Facilitate improved water performance throughout the value chain
Advance collective action and sustainable water management in river basins in which they operate
Achieve continuous dialogue with stakeholders

Why stewardship?
Simply put, water stewardship is good for the planet, good for people, and good for business.
Through practicing water stewardship, businesses can identify and manage the many water risks threatening their growth and viability. It also enables them to seize the ever-growing list of water opportunities available to their companies. Stewardship helps companies make invaluable contributions to solving the world's water crises, achieving the Sustainable Development Goals, and supporting human rights, while also making the business more resilient.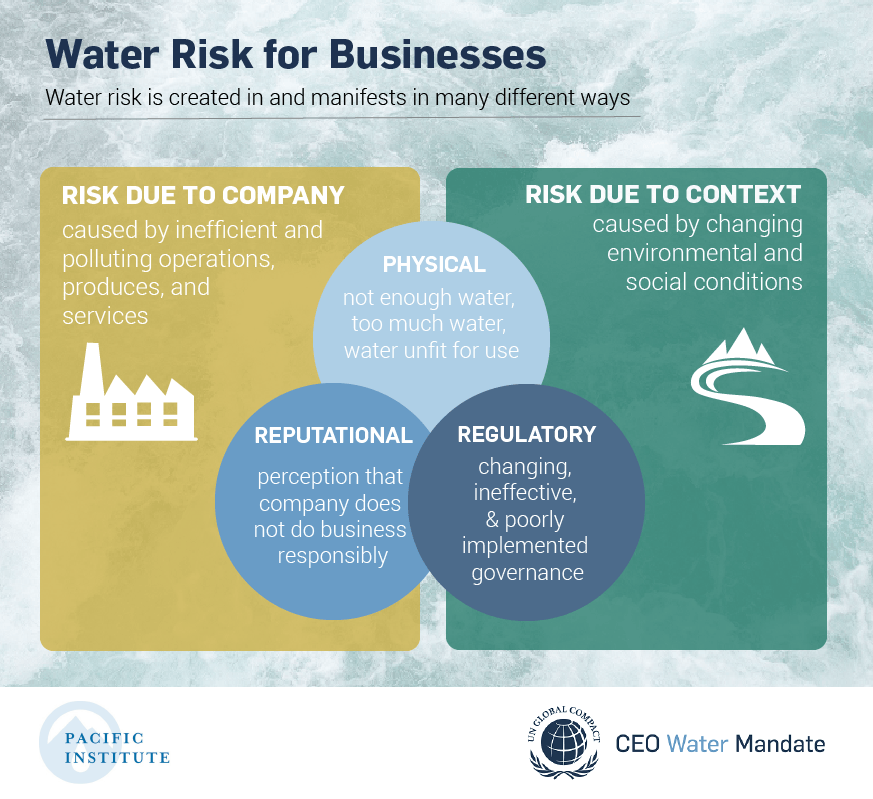 By implementing water sustainability practices, companies can:
Reduce costs – stewardship pays for itself through efficiencies.
Protect themselves from operational disruptions due to insufficient water supplies.
Maintain and strengthen their license to operate.
Gain competitive advantage and boost brand value.
Assure investors that the business is viable for the long term.
Drive improved productivity and talent recruitment.
UK drinks company Diageo Plc has reduced the volume of its water withdrawals by nearly 1 million cubic meters this reporting year and estimates the cost savings associated with this reduction to be approximately US$3.2 million.
Businesses from a wide variety of sectors – including mining, food and beverage, forestry, textiles, and electronics manufacturing, among many others – face increasing risks related to water. They face physical risks from having too much water, not enough water, or water that is unfit for use. They face regulatory risks as governments' approaches to managing water resources lead to changing, ineffective, poorly implemented, or inconsistent policy or regulations. They face reputational risks as local communities, investors, and consumers increasingly expect businesses to act in a responsible and sustainable manner.
According to CDP's 2017 water report of more than 2000 reporting companies, 60% face water-related risks, while 56% expect those to materialize over the next six years.
In 2017, companies have committed US$23.4 billion across more than 1,000 projects to tackle water risks in 91 countries around the world.
Water stewardship is an overarching, dynamic framework for understanding and addressing water risks to your business. Through stewardship, you can learn about the impacts caused by your operations, identify and manage the risks facing your operations, engage suppliers to improve their performance (and in doing so, manage your own risk), and promote sustainable water management in river basins of strategic importance to your business.
Water stewardship is the mechanism through which businesses and other organizations can contribute to water security efforts and Sustainable Development Goal #6.
Water stewardship can both help reduce business costs (through increased efficiencies) and reduce long-term risk (by improving brand reputation, securing long-term water supply, ensuring license to operate, and more).
Water stewardship practices are wide-reaching, including not only operational efficiencies, but also strategy and target setting, value chain engagement, collaboration river basin projects.